Eco Camping Glamping is an off grid camping park in Sráid na Catharach, Miltown Malbay, County Clare. You can charge up any gadgets and batteries from the micro renewable energy system here during the day and learn about the technologies involved in living off grid. We also have a number of gravel and grass bays for campervans and motorhomes. it gets busy summer time.. Especially for Willie Clancy Week. last summer 2022 i met the dad of the bass player in this amazing band. he explained to me his son's drive to enjoy his life playing music. Tommy. Your Da is cool! Peace brothers. Síochán. Éire
Eco Camping Glamping is conveniently located at the edge of Miltown Malbay. It is a few minutes walk to the nearest shop and Main Street restaurants and bars yet you will enjoy the tranquility of open countryside also. Wake up each morning to the sounds of nature and the dawn chorus.
If you would like a campfire why not hire one of our unique 'Cliffs of Moher' firepits and enjoy the aroma of our our own harvested turf (€12 includes fire pit, kindling and turf) or bring your own stove or firepit for cooking. If you would like to enjoy some cycling bring your bikes with you. The terrain is very flat locally so great for cycling to the nearby beaches. Surf lessons are available with Kilian who can arrange surf lessons at Lahinch and Spanish Point beaches. Give Kilian a call to discuss times and rates 089 2513540.
There are a also a number of great coastal hikes nearby to enjoy. For golfers there is a lovely nine hole links course at Spanish Point Golf Club or the choice of two of the top links courses in the west of Ireland, Lahinch and Doonbeg, just 15 mins drive away. Micheál can answer any questions you have regarding Ecotourism locally when you get here. Eco Camping Glamping is also a pet friendly park so feel free to bring up to two dogs with you but they must be kept on a lead as we have hens, ducks and turkeys free ranging on our feirm beag, little farm.
Within a 5 minute drive are two blue flag beaches, Spanish Point and White Strand which are great for kayaking and surfing. Another great beach for kayaking and kite surfing is Quilty Pier which is a 10 minute drive away and Doughmore Beach, Doonbeg which is 15mins drive south.
Central Location for touring West Clare
Eco Camping Glamping is ideally located for touring all of West Clare. The Cliffs of Moher and Burren National Park are 30 minutes drive to the north of Miltown Malbay along the Wild Atlantic Way and 30 minutes to the south on the WAW you will reach the towns of Kilkee and Kilrush which are the gateway to Loop Head Peninsula and its picturesque fishing villages. Want to try some sea angling talk to Séan at Fishing Adventures Kilbaha. We are in the heart of West Clare. Miltown (as it is known locally) is also renowned as the home of the Willie Clancy Summer School of traditional music so for a relaxed evening you can listen to some traditional music in one of the many local pubs. We also have a campfire on site that has enjoyed a few wonderful music sessions in its time so bring your musical instruments and feel free to play some tunes. Beidh ceol agus craic againn.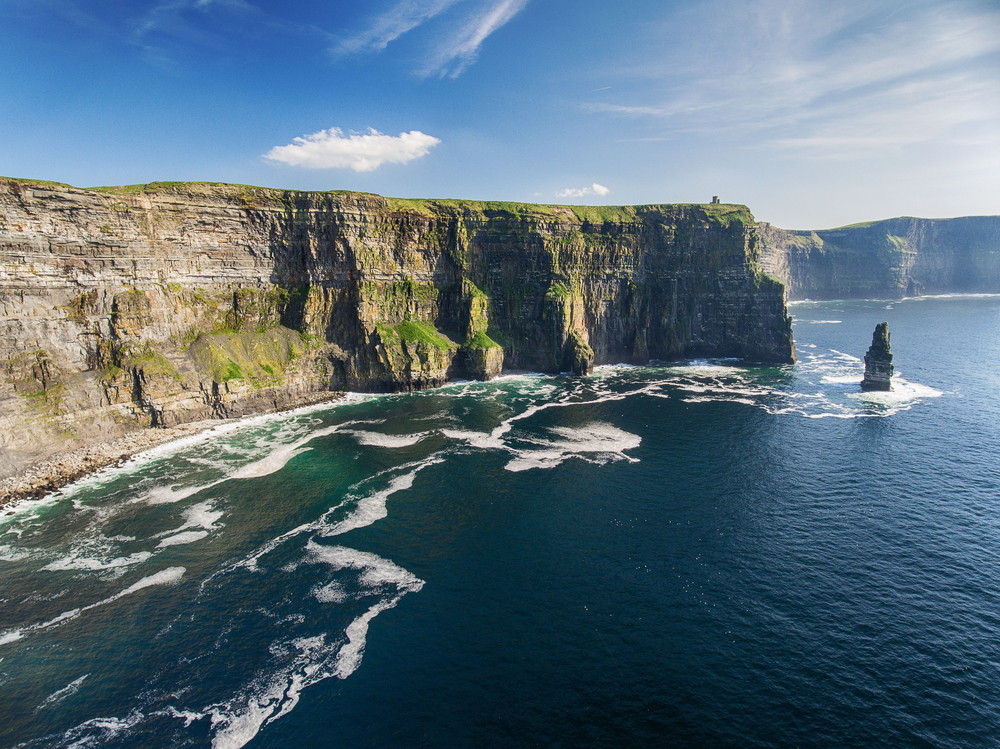 Each year the offgrid project here is evolving to become a self sufficient small holding. One thousand native trees and fruit trees/bushes were planted over the past four years that will provide kindling and fruit for jams and preserves in years to come. A flock of chickens, ducks and turkeys free range and provide manure to feed these trees each year as well as fertiliser for our vegetables. You can buy fresh eggs for your breakfast layed by the hens you will see on site. We also sell mixed salad leaves to go with your barbeques and meals while you stay with us.
EuroVelo Cycle Route 1 Ireland Camping
EuroVelo is the European cycle route network – comprising of 17 long distance cycle routes passing through and connecting 42 countries. Offering cyclists a fully signposted route along predominantly quiet, local and regional roads, Overall, EuroVelo 1, also known as the Atlantic Coast Route, is 11,150km long and runs through Norway, UK, Ireland, France, Spain and Portugal. Eco Camping Glamping is on EuroVelo 1 Ireland Route and because cycling is one of the most Eco friendly forms of transport we charge only €10 for any cyclist camping with us (a €5 discount).
A stay at Eco Camping Glamping is like a wild camping experience with the added basic needs of toilets, a shower and outdoor sinks available during your stay. Overall most people understand that Eco Camping Glamping is an evolving Forest Garden and example of a native Agroforestry project. The theme is 'Get Back To Basics'. So if you are looking for a sterile, overly sanitized ' modern' camping park with manicured lawns and concrete parking bays offering electric hook up so that you can be programmed by your satelite tv channels in your campervan or caravan choose somewhere else so that you do not feel disappointed. Nature is your entertainment here. i have experienced just a few nasty guests since starting Eco Camping Glamping. People who came here expecting a modern campsite and feeling let down. i always offer a refund to anyone who does not like it when they arrive yet some people still feel entitled to get their refund and write negative comments about the place. All they can see is negative and they are not open to the many positive attributes. The property was a guesthouse and campsite in the 1980s and the toilets are from then. They are simple, clean and sufficient. A few rude people have commented on Google reviews about our facilities and try to offer their opinions as to what a campsite should look like. Again if you are one of these people who expects too much in life Eco Camping Glamping is not for you and please book a campsite appropriate to your expectations instead. From reviews 95% of people who stay with us fully understand the evolving project and love their stay. Many people feel inspired and take ideas away to practice at home in their homesteads and gardens. There are a maximum of 12 pitches on 4 acres of land so plenty of space for social distancing and enjoying the peace and quiet. Some weekends can be busy when people bring extra friends to enjoy camping. Pitches start at €15 for one person, one tent and €5 for each additional person per tent. Infants are free. Campervans/motorhomes are €20, with up to 4 people, during July and August, €15 for the rest of the year. You can park up and relax in the knowledge that your vehicle is secure while you enjoy a meal or a few drinks and listen to some traditional music at one of the local pubs and restaurants.
We also have a number of Eco products for sale at economical prices including, bamboo tooth brushes , coconut fibre scrub pads, cotton reusable shopping bags and 480ml large bamboo reusable coffee/tea cups (plus a free cup of organic coffee with your purchase of a bamboo coffee cup). For bookings and availability phone Micheál (087)7210922 or email irelandecotourism@protonmail.com
"Céad Míle Fáílte" go dtí Eco Camping Glamping Miltown Malbay (100 Thousand Welcomes To You)
TOP TIPS to Enjoy your Eco Camping Experience even more!
Air Beds. If you are going to sleep on an airbed put a duvet on top of the airbed and then a bed sheet to sleep on. Bring another duvet or your sleeping bag to sleep in. The difference in comfort and sleep quality you get is amazing as you will not feel the plastic of the airbed under you. Trust me i have slept in tents for over two years of my life in many different countries so i have learned how to get the best sleep. Sheepskin rugs are also comfortable to sleep on as an alternatve to an airbed.
Rechargable Lights: Purchase a rechargeable light to charge with our solar power system during the day. We use d.light solar lights that have a built in solar panel. Pay a little extra for a quality solar light. I have had two d.lights for 12 years.
Ice Boxes, Chill Bags and Ice Packs: If you bring an ice box or small fridge, a clever way to keep food and drinks cool is to bring some ice packs to put in our solar powered chest freezer. Bring two and put one in the freezer when you arrive at Eco Camping Glamping. Replace your thawing ice pack each day with a freshy frozen ice pack that you leave overnight in the chest freezer.
Children's Entertainment: Bring playing cards and some board games for the kids to enjoy during their camping holiday. It is fun to play games in the tent if it is raining outside. Immersed in nature yet protected from the elements.
Bring Wellingtons: It makes such a big difference when you have wellies especially for the kids as they can explore more and stay dry out of doors in wet weather. Even if it has been raining your holiday can still be fun filled and helps kids to experience nature. Keep it positive! 🙂