Seeds Ireland
i have just affiliated with a young Irish company selling organic seeds and gardening supplies including tools, micro greens growing trays and growing media. Seeds Ireland is an Irish owned seed company based in County Limerick.
My plan is to develop an Eco Business Listing on iEco website to help people source ethical products and services that will help you on your Eco journey. All businesses featured agree to give a commission on each purchase made by customers via a unique affiliate link with iEco.ie. The aim is to help you and the business you are purchasing from plant trees. i have started a native tree nursery in West Clare where trees are gifted in pots to children in Éire. i also work with some great tree planting projects in Latin America where i lived for a couple of years. Deliveries from Seeds Ireland are Free when you purchase over 45euro so buy enough for your garden and gifts for your family and friends during the year. Seeds are a great small gift any time of the year, for birthdays or get togethers. At one time seeds were a form of currency. you could try bartering any spare packs of seeds you have with friends each year to restart an important local currency and help counteract the digital currency WEF (our arch enemy 🙂 ) are promoting with their Total Control – Central Bank Digital Currencies CBDCs. i will show a few educational videos in my next post for those of you who are unaware of the negative side to CBDCs.

Christmas Shopping that makes a difference.
Why not give the gift of seeds this Christmas as a unique present. Everyone needs to start growing some of their own food and the simplest way to get started is in pots. i purchased a large quantity of 7 gallon pots to show container gardening methods on this website in 2023. There are no excuses. Drill some holes in the bottom of an old bucket or plastic drum. In spring throw a couple of spuds in the bucket and well seasoned manure or potting compost. Water it once a week and you are a gardener! Simple. You may develop an interest in growing other vegetables after that and you can add more buckets or containers. Try no dig gardening or build some raised beds if you have space. You will start to look differently at your lawn as your interest in gardening develops. Micro greens are an option for indoor, urban gardening and vertical gardening.
Seeds Ireland have a great mixed vegetable planting pack that you can purchase for Christmas. If you feel that is not enough for the loved one you have in mind Seeds Ireland have lots of other gift ideas that you can include in your shopping list. Remember everyone needs good quality gardening tools too. If a family member has expressed an interest in growing micro greens at home Seeds Ireland offers a bulk supply of microgreens organic seeds, trays and compost needed to get you started.
Remember to enter the Seeds Ireland website via links provided on this page or wherever you see their banner on this website before you make any purchase so that we can plant trees together with the commission that is received.
What better gift to give the gardener in your life this Christmas than the gift of seeds!
When Winter is upon us, the excitement of getting back into the garden next Spring can really keep us going. Why not give your loved one something to look forward to in the new year. From getting outside and planting these vegetable seeds, to watching the plants grow, to eventually harvesting them, and putting them on your plate! The gift of seeds can provide months of joy.
This gift pack contains 6 packs of high-quality, organic, open-pollinated vegetable seeds. The varieties included are:
Purple Sprouting Broccoli
Parsnip – Tender & True
Red Bell Pepper
Lettuce Cos – Little Gem
Wild Rocket
Radish – Cherry Belle
If you would like us to send the gift pack directly to the recipient, please fill out their address in the shipping details at checkout. If it is being sent directly to the recipient, we can include a personalised message inside the pack. If you would like this done, please leave your message in the "Order Special Instructions Box"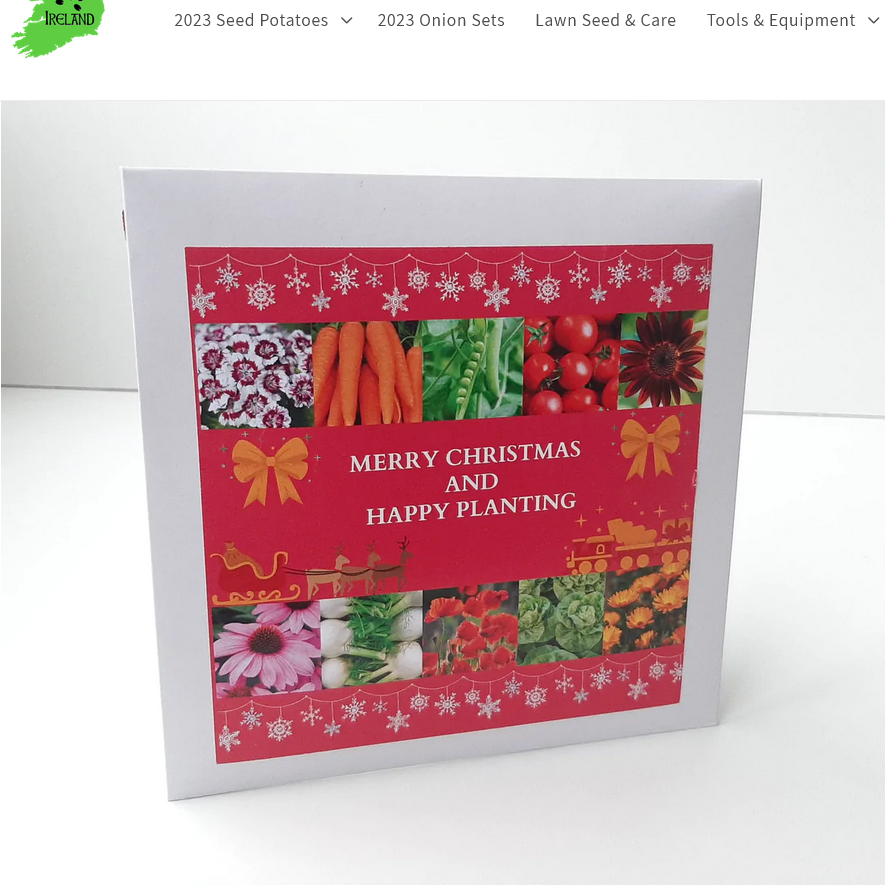 Finally for some Christmas Mirth this year have a look at this short video interview with Reverend Billy Talen an American artist activist and his Church of Stop Shopping in New York city some years ago. Reverend Billy's work involves educating the masses with his Gospel Choir and exorcising demons out of cash registers! He feels the message of Christmas is being lost in what he calls 'The Shopocalypse' where people have turned the message of Christ into a month long shopping festival. Billy poses the Question " What Would Jesus Buy For Christmas?" … i have an idea it would be an affordable ethical gift that is good for people and Earth, like organic vegetable and flower seeds from Seeds Ireland 🙂